Dining
SO SORRY, you had to register BEFORE 9/2/18 for the meals.
Dine with us
You are welcome to join us for Erev Rosh Hashana Dinner and Erev Yom Kippur Dinner, Rosh Hashana lunch, and to Break The Fast Dinner at the conclusion of Yom Kippur. We serve delightful buffet Jewish kosher meals in a beautiful air-conditioned dining room, including soup, salad, vegetables, chicken (or vegetarian main course) and dessert.
Honor yourself,
stop work early,
beat the traffic,
relax and have
dinner with us.
Visit with your B'nai Horin friends and get to know others from our community. You'll be glad you did!
ALL HIGH HOLY DAY dinners start early at 5:30 pm SHARP
(In order to serve the 4 course meals to 100 people in a delightful and pleasant way and still have everyone seated and ready to start services at 7 pm, we have to start dinner at 5:30 pm.)
Break the fast with us
At the conclusion of Yom Kippur services everyone will break the fast together with challah, wine and juice followed by, for those who have registered, a full dairy dinner.
Plan ahead and be included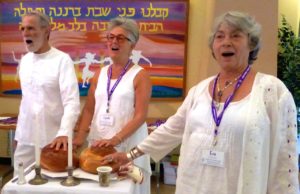 Each year many people are so moved by our services that, in the spirit of the moment, they want to stay and join in the meals. Unfortunately, that is not possible. So plan ahead and REGISTER NOW!
Meal Pricing
Erev Dinners
We offer vegetarian entrees for those who do not eat chicken.
$25 Adults
$15 Kids
Rosh Hashana Day 1 Lunch
$20 Adults
$13 Kids
Rosh Hashana Day 2 Lunch
$20 Adults
$13 Kids
Break-The-Fast Dinner
$25 Adults
$15 Kids