Locations
Where Can We Hold Our Bar Mitzvah?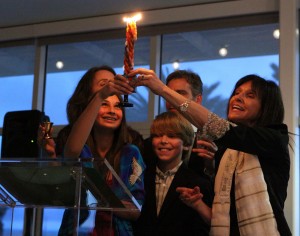 The Bar/Bat Mitzvah Service can be held in anywhere. Some families prefer to celebrate in a Jewish Temple, others are happy with a celebration at home, in a park, hotel or restaurant, or on ZOOM! The party can also be anywhere you wish.
The service can take place either Saturday morning at 10 or 10:30 am or Sat afternoon at 4 or 4:30 pm. Our Rabbis strongly prefer afternoon services.
The afternoon service can end with a Havdalah Service to complete Shabbat and then be followed by dinner and a party. Sometimes morning services are followed by an Oneg Shabbat or a luncheon and a party. Other times, morning services are held and the party is held in the evening.
Westside Temples
The following Temple Sanctuaries may be available for your service, as well as their social halls for the party. (Each temple has its own fee structure) Some Temples will only be available for afternoon services. Other Temples not on this list may also be available. It never hurts to call and ask!
Adat Shalom
3030 Westwood Blvd, West Los Angeles
310.475.4985
www.adatshalomla.org
Beth Shir Shalom
1827 California Ave, Santa Monica
310.453-3361
www.bethshirsholom.com
Congregation Kol Ami
1200 N LaBrea Ave, West Hollywood
Ask for Lee Werbel, Executive Director at 323.606-0996
www.kol-ami.org
Sha'arei Am, The Santa Monica Synagogue
1448 19th St (NW Corner of Broadway & 18th), Santa Monica 90404
www.theSMS.org
Phone 310.453.4276
Rabbi Jeffrey A. Marx, rabbi@thesms.org
Temple Emanuel
300 S Clark Dr, Beverly Hills
310.274.6388 (ask for Jan Sacks)
Temple Beth Am
1039 S La Cienega, Los Angeles
310.652.7353
Valley Temples
Adat Ari El
12020 Burbank Blvd, North Hollywood
818.766.9426 (ask for Patrick Miller, Facility Director)
www.adatariel.org
Contact person:
Valley Beth Shalom
15739 Ventura Blvd., Encino
818.788.6000
www.vbs.org
Open for rental of sanctuary but reception must take place on site as well.
Natural Locations
Tree People Ampitheatre
Coldwater Canyon at Mulholland Dr.
Outdoor Ampitheatre with Valley view
Contact: Jim Hardie 818.782.8296
Stewart Hall or Woodland Hall
Temescal Canyon, above Sunset in Temescal Gateway Park
Three sides are windows to the trees and mountains
Contact: Joyce Whitehead
310.454.1395 x103
Jwhitehead@smmc.ca.gov
The House of the Book at AJU Brandeis-Bardin Campus
In Simi Valley 2 miles South of the 118 Fwy at Tapo Cyn
Building in the shape of a Torah, set on a mountaintop.
Contact: 805.582.4450