Child Care and Youth
Our Program
The High Holidays children's program is perhaps the most joyous embodiment of our name: B'nai Horin – Children Of Freedom.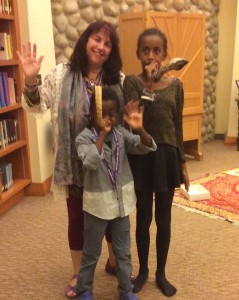 In a relaxed nature-filled atmosphere the children are introduced to a wide array of age-appropriate activities that playfully reinforce Jewish values. Our objective is to offer the children a deeper understanding and a hand's-on experience of self-reflection, forgiveness, Teshuvah, renewal and community life.
Rina Daly-Goode, our beloved education director, leads the program
Gale Gayle, a world-renowned artist, brings her special flair for arts and crafts.
Our Master Musicians lead us in lifting our voices in song.
This, and so much more, makes the B'nai Horin High Holiday program enriching, enlivening, and just plain fun! We would love to see you there. The Child Care & Youth Programs combine day care with holy day based art, music, play activities and snack food.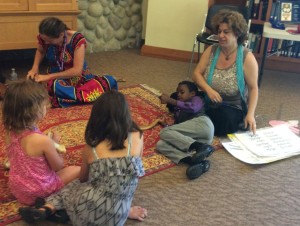 Program Fees
Rosh Hashana EVE & DAY and Yom Kippur EVE & DAY: Cost is $30 each per child, per service
All Four Services: Cost is $100 per child
We do NOT offer child care at Tashlick, but children are welcome to come with their parents.
Please use the registration form to register your children and yourselves. You will fill in the names and ages of your children and WHICH services they will attend. Remember, we do NOT accept "drop in" children during the Holy Days, so please plan ahead. Your children will love our program.