Meet Our Staff
Stan Levy Rabbi & Spiritual Leader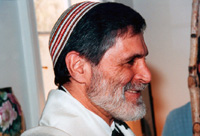 Stan Levy is the Rabbi and spiritual leader of B'nai Horin – Children of Freedom, which he founded in 1968. Rabbi Levy has taught at the community college of Jewish Studies, the University of Judaism, Hebrew Union College and Elat Chayyim, The Jewish Spiritual Retreat Center, and the ALEPH Kallah, as well as at a number of synagogues in the Los Angeles Area.
He is the Founding Chair of The Academy For Jewish Religion, California (a rabbinic and cantorial seminary in Los Angeles). Rabbi Levy has compiled special spiritually oriented prayerbooks for B'nai Horin for Shabbat, High Holy Days and all the major Jewish Holidays.
Rabbi Levy is a practicing attorney and is a partner in the law firm of Manatt, Phelps & Philips, LLP. He is the co-founder of Bet Tzedek, The House of Justice, the founding Executive Director of Public Counsel and the former Deputy Director of the Western Center on Law and Poverty. He has taught at Loyola University School of Law and the John F Kennedy School of Law.  Stan is the Founding National Director of Bet Tzedek's Holocaust Survivors Justice Network.
Stan and his wife Lynda, a psychotherapist, have three grown sons, three daughters-in-law and seven grandchildren.
Rabbi Stan also serves as Professor of Spiritual Development at the Rabbinical School of the Academy for Jewish Religion, California (www.ajrca.org) in Los Angeles. Check out Rabbi Stan on the AJR web site.
Laura Owens Co Rabbi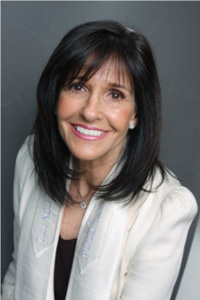 Laura Owens received her BA from the University of Southern California in Theatre Arts and has spent most of her adult life as an actress. Laura has appeared in many television shows, but the theatre was always her passion. She was one of the Artistic Directors of the award-winning MET Theatre for almost twenty years and served, for ten years, as Chair of the Board of the renowned Padua Hills Theatre Festival.
Laura also spent several years as an Archeologist and was a member of the prestigious Mimbres dig in New Mexico. Committed to community service, she has been active in the environment, working as a founding member of CHEC, the Children's Health Environmental Coalition (now known as Healthy Child, Healthy World); against gun violence, going to Washington for the Million Mom March; feeding the homeless weekly for seven years through the West Hollywood Food Coalition; an active former participant and constant supporter of The Wellness Community, by whom she was honored in 2006 as the recipient of the Human Spirit Award; and an active member of B'nai Horin Congregation for thirteen years.
Laura has served on the Board of The Center For Early Education and The Archer School For Girls. She was the rabbinic intern at Stephen S. Wise Temple for 2006 – 2008.
She is married to director/producer Jack Bender, and they are the proud parents of two grown daughters, Sophie and Hannah.
See Laura on the AJR Web site.
Cantor Ed Robin
Cantor Rebekah Mirsky
Peggi Sturm Executive Director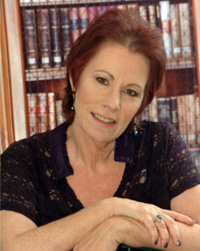 Peggi has been producing events and creating communities for as long as she can remember. Starting out as the oldest of 4 children, she created the Sturm family circus and other events! After completing her BA at San Diego State College, in Spanish and Humanities, Peggi began a long career as a teacher.
Her first students were junior high school kids. After 3 years Peggi was radicalized and became a teacher organizer, first with the NEA affiliate, then helped found United Teachers – LA, with whom she served for 6 years. Next Peggi worked for est in Education, working to help teachers transform their relationship with their students, parents and the process of teaching.
In 1979 Peggi was a co-founder of the Institute for Synergy in Action, an organization dedicated to helping people apply their spiritual stand and goals in every day life. With ISA Peggi's next students were adults in the entertainment business whom she helped form a community,then trained and supported them in producing a life transforming event about ending hunger in the world. Peggi became the producer of that event, The LA World Hunger Event (held May 3rd, 1980).
Peggi went on to produce many hunger related events, highlighted by being on the team of Live Aid, the US Presidential Hunger Awards honoring John Denver and the Whole Life Expo.
Peggi retired from event production and became the mother of Joshua David Sturm in 1986. At the same time, she began a new career as an accounting and computers consultant. She became a national leader with Apple Computer and Macintosh Accounting Software Companies. During the last 22 years she has set up the accounting and business management system for over 3,000 businesses.
In 1990 Peggi came out of "production retirement" to produce High Holy Days for Rabbi Stan and B'nai Horin. It was beshert! Peggi became our Executive Director and manages every aspect of B'nai Horin – from the daily finances to monthly events to our wonderful High Holy Days.
Joshua David was Bar Mitzvah'd with Rabbi Stan and graduated from college with a BS in computer game programming in April 2008 (Digipen Institute for Technology, Redmond, WA). Josh is thrilled to be employed at Microsoft in Redmond, WA developing and testing games on the Zune MP3 player. Peggi lives in West LA with her 2 dogs PJ and Jenny!
Every once in a while Peggi gets tired and thinks about retirement. In those moments, Rabbi Stan reminds her that she has a lifetime position! Peggi really loves Rabbi Stan, Rabbi Laura and B'nai Horin and the warm community we have all created together. (Now if only everyone would register by July 31st, we could experience heaven on earth!)
For more information about Peggi, her business and her family, check out her web site.
Rina Daly Youth Education Director
email Rina
Rina Daly, our educational director, is always ready to share her joy of Judaism with the community. For more than a decade, Rina has been preparing young and old to become Bar and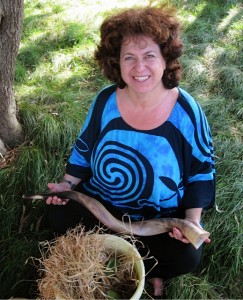 Bat Mitzvah. "It is such a delight to teach an individual how to read Hebrew, sing prayers and chant from the Torah," she says with a smile.
In 1995, after graduation from CSUN with a BA in Child Development and Jewish Studies, Rina started "a new kind of Hebrew School" called the Jewish Enrichment Club. In this relaxed home-centered environment, children and parents gather every Friday afternoon to creatively explore the deep, rich traditions of our Jewish heritage.
Born in Israel, Rina brings inspiring stories from the homeland into many discussions. She especially likes to share powerful images from the realities of living in Jerusalem through times of peace and war. One of the earliest memories took place the Shabbat following the Six Day war where hundreds of people were all rushing to get to the Old City of Jerusalem. After hours of walking, everyone found themselves staring in awe at the Western Wall and Rina was asked to pray in front of it.
Already an inquisitive four-year-old, Rina refused to pray to the large blocks of stones – even with her mother's encouragement. Week after week she just stood there in amazement, witnessing the loud praying crowd and the outpourings of their hearts.
"What makes them pray?", she wondered. "Who are they praying to, and why are people from all over the world so drawn to this wall?".
Since then her spiritual journey has continued to unfold. Each Rabbi, or scholar Rina encountered added new dimensions of beauty to her understanding of Torah and Mitzvot. When she got to know Zalman Schachter-Shalomi, Rabbi Stan Levy and the BNAI HORIN community, Rina knew she had finally found her spiritual family. In May of 2008 Rina received a Master Degree in Spirituality from the University of Santa Monica.
For more information on the Jewish Enrichment Club click on the Kids Tab
Eva Nathanson Events Coordinator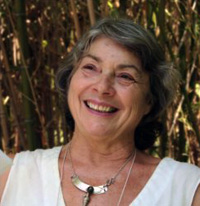 Eva has retired from a life time career in Medical Management and Administration. She continue as an(for us and others!) Event & Special Project Coordinator Producer. She is also a practicing artist.
Education
MBA – Organizational Management & Human Resource Management-Antioch University
BA – Business Physiology – Antioch University
Art – Art History, Anthology, Interior Design – UCLA
Multi-Media Production & Design Nova Institute
Practical Art – Barnsdall Art Center and Master Crafts People
Spiritual Training – Rabbi Stan Levy & Jewish Renewal Network of Rabbis
Work Experience
Business Manager, Human Resource Manager, Special Project Manager & Event Coordinator and Producer, Leader of Art workshops for children & adults.
Interests
Creation of one of a kind Silver Jewelry and Ceremonial Objects
Creation of head and hat ornaments
Art workshop, theater, travel, music and cultural anthropology
Languages
English, Hungarian