B'nai Mitzvah
Orientation Program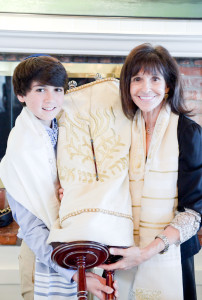 Our B'nai Mitzvah class operates on a school year basis. The next class starts on September 12, 2021.
The Orientation Meeting, for parents and students, is on the morning (10 am – Noon) of Sunday, September 11, 2022 at the Marshall P. Riddick Youth Center 2634 Overland Avenue Los Angeles CA 90064. 
Register Now!
When you are sure that you want your student in our program you should register and pay the $500 deposit. At that time you can pick a B'nai Mitzvah date. To register, email peggi@bnaihorin.com for an appliation.
Welcome to the B'nai Horin, Children of Freedom B'nai Mitzvah Program!
Our program is taught by our two rabbis, Rabbi Stan Levy and Rabbi Laura Owens, from 10 AM to 12 noon every Sunday during the school year, from September to June. This gives every student the opportunity to have a meaningful relationship with their rabbis, which is simply not possible in large congregations.
In these Sunday sessions, all the students meet together at the Riddick Youth Center in West Los Angeles.  This class is taught entirely through film (no textbooks, no homework), and the kids really enjoy the process. They also love our snack break, which we take about halfway through the morning!
The first several months of class are spent watching movies of the most important stories in the Torah, from creation through Moses. These films are written, directed and performed by some of the finest artists in the world. This is followed by our Holocaust section, when we watch documentaries and docudramas about this significant period in recent history. We begin with the Oscar-winning documentary on the life of Anne Frank, followed by several other films about young people or young adults who either lived through, or have responded significantly to, the Holocaust. Next we learn about the establishment of the modern state of Israel in 1948, through a documentary produced by The Museum of Tolerance, and we look at the issues that continue to persist between Israelis and Palestinians. The fourth series is "Middle School Confessions," from HBO Family, depicting the social and moral situations that young teenagers face, including bullying, alcohol and drugs, sex, gender identity, and depression. By this time in the year, we have developed both a relationship and a framework that allows us to put these contemporary  issues into the context of learning to make wise life choices – and what to do when we don't. The final show we watch is about a girl wrestling with becoming a bat mitzvah, entitled 'The Book of Questions."
We study these films as we would study any text; we stop after each major section, discuss what's going on, and then talk about how these stories relate to issues in the kids' lives, and what our tradition is teaching us about understanding how to make good choices.
Our program is called "Choose Life", a phrase taken from one of Moses' final messages in the Torah. We focus all year on learning to make good and wise life choices as the kids become young adults, taking responsibility for their actions as they take their place in the world.
In addition to these Sunday classes, the students will learn to read Hebrew with a gentle and inspiring tutor in private weekly sessions in your home (or on zoom). They will also learn to understand, pray, and chant the basic prayers of Judaism, as well as their Torah (and perhaps Haftarah) portions. There is (of course!) homework in this part of the program. Then, approximately three months prior to their service, they will come for an hour either before or after class on Sundays to practice with the rabbis, along with perhaps one or two other students, so that they become comfortable leading the service.
Some kids do the whole year of Sunday School, and then have their b'nai mitzvah services some time the following year. Depending on the needs of the individual student and the family, the Hebrew tutoring and preparation is generally 6-9 months. These (Sunday classes and home tutoring) can overlap, or not, as best serves the interests of the student.
Rabbi Laura or Rabbi Stan, along with one of our cantors or cantorial soloists,  will conduct your bar or bat mitzvah service alongside your son or daughter, at your chosen date and location. The service can be adapted by you and our rabbis to reflect your family's Jewish practice, and to highlight your child's accomplishment. You may use our B'nai Horin shabbat prayerbooks, or you may create your own, incorporating all the prayers and blessings that will be used during the service.
This experience has proved over decades to instill joy in the students and families who participate, and leave a lasting connection to our Jewish heritage and its relevance to issues in contemporary life.
Want to hear what some parents say?
"We really appreciate and rave to everyone how much our son enjoys his Jewish experience with you. It is hard to believe that the same kid who used to lash out in tears describing going to his other Sunday school as "worse than being in a pit with snakes and spiders doing homework all day" (and he really hates spiders) to happily joyfully willing to go and telling people who ask – "I like it a lot."
"Thank you for understanding the times of today and being willing to make the experience a rich, relatable, pertinent, expansive and enjoyable one."
"I'm writing because my experience with you and your program for both  our son and our daughter has really opened my eyes to an approach to Judaism and religion that feels so much more organic, authentic, accessible, and inclusive.   I cannot begin to tell you how many people approached me after to tell me how much they loved how you conducted the service and several have asked me how to become part of your program."
"We are still basking!  Thank you so much for the most wonderful, amazing, lovely bat mitzvah ceremony, which was above and beyond anything I ever imagined.  So many guests have told me how for the first time they could understand everything said and done…"
"Wish there were better words than "thank you," since they seem so pedestrian compared to what you did for us.  I can't tell you how many of our friends told us this was easily the most beautiful service they'd ever been to.  (Several of them added, "I know people always SAY that, but this time it's true.")  Everyone talked about how musical it was, how personal, how relaxed and upbeat."
"I honestly don't think I've ever seen a bat/r mitzvah child look as happy as our daughter did during the entire service.  She clearly felt prepared and ready and like it was something to enjoy and not something to fear–and I give you and her wonderful tutor Rina all the credit for that." 
"You really make the whole process of having a bat mitzvah meaningful and spiritual and so wonderful. I honestly enjoyed the service so much more than the party! The program at B'nai Horin makes it manageable for every child, regardless of level, and each kid feels successful. I feel lucky that my three kids have all been able to work with you and that I have had the pleasure to know you. You are so warm and genuine and kind and loving. Thank you."
 And what some kids have to say?
 (from a bat mitzvah speech)
Shabbat Shalom. Thank you everyone for coming today.
"First of all I'd like to thank Rabbi Laura for inspiring me every week and pointing out new aspects of every prayer. Thank you for teaching me the meaning of a Bat Mitzvah, how to look at it in many ways, and connect the prayer, rather than just read it. I never got bored of the enthusiasm you brought to class. You truly made my experience valuable and memorable.
I'd also like to thank Rabbi Stan for helping me understand Jewish history and leading me on a spiritual path to my bat mitzvah. You created a modern twist on all the stories of the Torah and captivated the class' attention with your relevant meanings"
 (thank you from a happy former bat mitzvah student)
"Well, I'm emailing you because its exactly 1 year since my bat mitzvah. I wanted to say thank you again and I would also like to visit you and Rabbi Stan soon because I miss seeing you both. I miss our moments we used to have before class when we were practicing for my bat mitzvah and I miss seeing you both every Sunday (even if it was early in the morning). I just wanted to tell you I was and still am so thankful to have had you both to guide me through becoming a bat mitzvah and teaching me various prayers and stuff about Judaism. Also for being people I could look up to and know that I could ask advice from both you and Rabbi Stan. I had such a fun time with you and like I said at my bat mitzvah, i feel like I've known you for so much longer because of our deep connection. Thank you again, and I hope to see you and Rabbi Stan soon."
We could go on and on – but we'd love to have your younger brothers and sisters – or your family friends – experience this for themselves!  We hope to see you, and your friends, at The Riddick Center on September 11.
B'nai Mitzvah Resources