Costs & Fees
What Will the Bar/Bat Mitzvah Cost?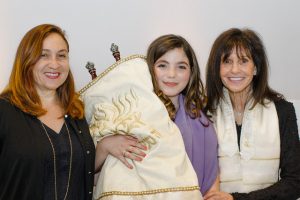 Your B'nai Mitzvah is a once in a lifetime event. Some people keep things simple and costs minimal. Others go all out! As you are making your plans, think about four sets of costs.
B'nai Horin's Fees
Study and Preparation Costs:  $3,850
Rabbi's Fee, which includes a year of class Torah study, semi-private and private preparation for the Bar/Bat Mitzvah and the ceremony itself, is $2,850.
B'nai Horin's Facility & Coordination Fee is $800. This covers the cost of the video equipment, supplies and our administrative costs.
B'nai Horin's Torah Maintenance Fee is $100. Each of our students studies with one of our two Torah's every week.  (One is a Holocaust Torah and the other is over 100 years old) Our Torahs get a little worn and tired from this intense use, but we do regular repairs to them. This fee helps cover those costs.
B'nai Horin's Scholarship Fund is $100. Not every family who wants to participate with us can afford the fees. So we ask everyone to contribute to the Scholarship Fund so that we can include those who otherwise could not participate. We start family Tzedakah training upon enrollment!
Additional Fees:
Security For the past two years we have felt it essential to provide security at the Riddick Center on Sunday mornings. We have worked with this security company for many years, and this is necessary for the security and comforst of all our students and their families.
Hebrew Tutoring Each child is individually tutored in Hebrew. Our tutors fees range from $80 – $100 per session. Most kids meet with their tutor once a week for 6 to 9 months.
Cantor's Fee $600 for the service, $100 for one rehearsal
B'nai Horin Fees Payment Schedule
Deposit of $500 payable at registration. You can create your own payment method.
We suggest 3:
9 monthly payments of $675
4 payments of $840 (Oct 1, Dec 1, Feb 1 and April 1)
1 payment in full (preferably in the fall)
Regardless of how you pay, you must be paid in full 30 days prior to the Bar/Bat Mitzvah. Other payment plans can be arranged by special request. Please make checks for the fees above payable to B'nai Horin. We also accept payment with AMERICAN EXPRESS, VISA and MASTERCARD.
At the Orientation Meeting in September we will ask you to make a payment plan agreeement.